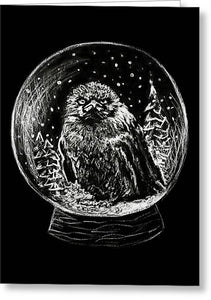 Fledgling crow in winter encapsulated in a snow globe. I was feeling grumpy about winter when I did this illustration. Perfect to add to any gift or all alone. You know you have a grumpy crow lover in your life!

Our greeting cards are 5" x 7" in size and are produced on digital offset printers using 100 lb. paper stock. Each card is coated with a UV protectant on the outside surface which produces a semi-gloss finish. The inside of each card has a matte white finish. Each card comes with a white envelope for mailing or gift giving.
I use a professional printer for these, so, it may ship separately depending from other items in your cart.